This is a question that I was asked recently by a lady who has just embarked on her journey of trying to conceive. The question was asked in jest but it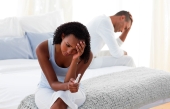 stopped me in my tracks because my immediate reaction was yes it most definitely should be. In reality it is not a recognised condition and for that reason so many women embark on the journey with no idea what they are getting into and therefore no idea how to prepare.

If it was a recognised condition, or at least more widely acknowledged and talked about it could so easily be avoided. If women knew in advance, they could save themselves the months or even years of the rollercoaster ride that is Trying To Conceive.

The lady in question is has only been trying for 2 months and already she feels that she has turned into this complete stranger who is suddenly intensely aware of everything that is going on in her body and wondering if it is a sign of pregnancy. She is frantically searching the internet to see if her symptoms indicate pregnancy, for the first time she is aware of every way that her body feels on every day of her cycle. So what was previously normal and unnoticed is now considered and researched and planting the seed of hope that is dashed when her period arrives.

Sound familiar?

The unfortunate truth is that this is the exact same process that so many women trying to conceive go through and the longer it goes on the worse it gets. The more failed attempts to conceive the more stressful the situation becomes for the couple involved. The negative thought patterns start to creep in 'I am just not manly/womanly enough', the disappointment each months starts to turn into despair and depression, the hopefulness each month turns into desperate need. Suddenly nothing else is important, there is only this in your life, until you conceive you cannot even comprehend focusing on anything else. Unfortunately this is where many relationships suffer which causes further stress.
Now if we could all rewind to the start and begin the journey in a more informed way most of this could be avoided.
You see the higher your stress levels, the lower your chances are of conceiving, it is a simple fact. Stress directly impacts your Endocrine system – the one that controls all of your hormones! The initial stress you put yourself under in those early days knocks your Endocrine system out of balance which means you are less able to cope with stress so you become more stressed, your hormones become more unbalanced, can you see the pattern here? Before you know it you have turned into a crazy person who feels as though they have no control over anything anymore.
So what is the answer?

Instead of embarking on a journey called 'Trying to Conceive' I suggest renaming the journey 'Achieving Optimum Health', by doing this you are giving yourself the best possible chance of being able to conceive. It is important to know that in 50% of cases of subfertility that male factors are involved so it is a good idea for both parties to participate equally.
There are 3 simple elements to this journey and they are Diet, Exercise and Relaxation.
Diet : It is important that you are absorbing the right levels of vitamins and minerals so try to ensure you are taking a good quality supplement or better still that you have a healthy diet with plenty of organic fruit, veg, fish, lean meat, pulses and seeds. If in doubt see a nutritionist who can provide you with the guidance you need.
Exercise : Not only does exercise release endorphins, happy hormones, which will help reduce stress levels in the body but it will also help to strengthen your body physically in preparation for the changes that will take place during pregnancy.
Relaxation : This is the element which is often overlooked when people think about getting healthy. However is to so important, the body needs relaxation in order to heal therefore without it you may find that all of your efforts to become healthy seem to be an uphill struggle.
My greatest joy is to see the amazing difference that reflexology can make to the lives of these couples and to the lives of their loved ones. Normally I see couples when they are already quite far into the journey of 'Trying to conceive'. They come to me presenting the types of symptoms described above and feel completely lost. It is so amazing to see the transformation which normally starts to happen after just a few treatments.
It is like watching a flower unfold in early spring, after surviving the dark depths of winter. In a very short space of time they start to feel stronger and more positive. They begin to notice all the wonderful things that they have in their lives and they are for the first time since the start of their journey able to put things into perspective. Normally by about the 3rd treatment I hear comments like 'I realise now that if it is meant to happen it will and if it doesn't I think I can cope with that'.
This is when my heart leaps with joy, because they are letting the stress of the situation leave their bodies and of course in doing so bringing the possibility of conceiving closer to them. It is at this point that I suggest that they embark on their new journey, a 3 month period dedicated to enjoying a healthy lifestyle and enjoying each other again. Taking away any pressure to conceive, and allowing them to have their lives back.
Remember that once a baby does come along your relationship with your partner changes forever, so ensuring that you enjoy your time together before you conceive should be your priority. In the same way that preparing your body will help it to cope with the changes brought on by of pregnancy and childbirth, preparing your relationship will help it to cope with the changes brought on by parenthood.
Reflexology can and does help many couples in the this situation to achieve this and ultimately achieve parenthood.