The Reflexology Planner for the 9 Months of Pregnancy…and Beyond

Question: What makes pregnancy be so special at the moment of implementing a preventative course of treatment?

Answer: Pregnancy is a limited period, in which symptoms and conditions usually occur in specific times, due to natural developmental reasons.

Question: Why should we be interested in preventing symptoms during pregnancy?

Answer: To improve quality of life during pregnancy, to avoid unnecessary interventions during birth and to stimulate the body for the Puerperium, without forgetting the important benefits for the baby inside the womb.

Question: What kind of symptoms and conditions can be prevented during pregnancy and when? How can I foresee if a symptom or condition is ought to happen or appear in this specific pregnancy?

Answer: The above questions can be answered by the introduction of the Maternity Reflexology Planner.


The Maternity Reflexology Planner

The Maternity Reflexology Planner is a chart that shows us the period of pregnancy in which a certain symptom or condition usually appears and when to start to prevent in order to build an effective course of treatment.
The purpose of the planner is to anticipate what can be and to literally "Stop the snowball".In order to build an effective course of treatment with Reflexology, we must take into consideration some necessary elements like:
Clinical history of our patient
Lifestyle
Dietary habits
Environmental factors
Fragment of THE MATERNITY REFLEXOLOGY PLANNER
Potential risk of development of preventable symptoms during pregnancy


Example No.1

From Anemia to Lacerations of the Perineum …..and all what can happen in between (totally preventable)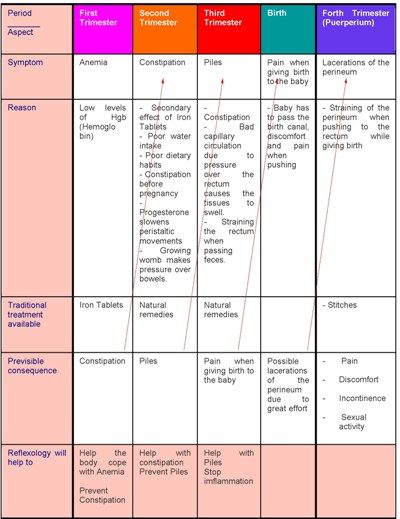 Explanation:
The understanding of a possible domino effect doesn't exactly mean that an original symptom can necessarily lead to a final consequence. On the contrary, like in the example presented above, it would be inadequate and irresponsible to say that every situation of anemia would necessarily led to lacerations of the perineum, incontinence, etc. This would be probably false and misleading.
However, an improperly treated symptom or an improperly treated and foreseeable side effect of the right treatment can trigger the appearance or the aggravation of another potential symptom or condition.
Then, we would probably witness a "Snowball Effect" or "Domino ffect" of all preventable conditions.
Example No.2 : Oedema.

Another 100% preventable symptom. But….why do 70% of women suffer from some sort of Oedema during pregnancy?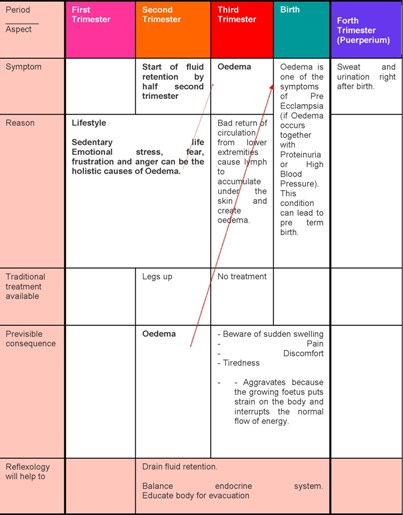 An oedema occurs when the body is unable to drain fluids from the lower extremities. The main reason for the appearance of this symptom is a bad return of circulation from the low extremities, creating dumps of retained fluid (lymph, interstitial liquid) in legs, ankles, hands and sometimes forearms.
When the body grows during pregnancy, liquids tend to flow slower. If the mum-to-be has a relatively bad circulation due to for example lack of exercise, an oedema can occur. This can be absolutely preventable with an adequate preventative scope on pregnancy, in this example focusing on necessary lifestyle changes to be done. Reflexology can be of outstanding help with the prevention and the treatment of oedema at any stage of its development.
Knowing lifestyle habits of the mum-2-b can help us pay attention to the potentiality of this symptom and can be also a good opportunity for us as therapists to help the mum-2-be educate her body for birth.

Example No.3: Gestational Diabetes.

Gestational Diabetes can be preventable!
Some of the risk factors for the development of GD can be treated with Reflexology, and some others can be adequately neutralized with changes in lifestyle.